Kleines Mädchen ganz GROSS! Ella Saves The Ocean.
Es gibt Menschen und Projekte auf dieser Welt, die eigentlich jeder kennen sollte. Einfach weil sie unfassbar inspirierend sind. Weil sich diese Menschen für das, was Ihnen wichtig ist und was sie lieben, einsetzen und denen, die selbst nicht sprechen können, ihre Stimme erheben. Ein paar dieser tollen Menschen und Projekte konntet Ihr hier ja schon ein wenig kennen lernen. Heute möchten wir Euch eine kleine Dame vorstellen, die für uns unglaublich inspirierend ist. Weil sie wirklich der allerbeste Beweis dafür ist, dass jeder von uns auf diesem Planeten einen Unterschied machen kann. Egal wie klein man ist. Ella Saves The Ocean.
Ella ist gerade acht (!!!) Jahre alt geworden und setzt sich mit Ihrem Projekt Ella Saves The Ocean für die Tiere der Ozeane ein – besonders für unsere Freunde, die Haie. Und Ella hat natürlich auch ein riesiges Problem mit dem ganzen Plastikmüll, den wir Menschen Tag für Tag im übertragenden Sinne in unsere Ozeane kippen. Interessanterweise haben wir von Ozeankind® und Ella das gleiche Vorbild – Rob Stewart (nicht RoD, RoB.). Denn auch Rob war einer dieser Menschen, der zu seinen Lebzeiten mehr für die Haie dieser Welt getan hat als wir alle zusammen. Und auch Rob war nur ein einziger Mensch. Rob war einer unserer Superhelden (mit einem Klick mehr über Rob erfahren). Ella ist ebenfalls eine absolute SUPERHELDIN. Ella ist unserer Meinung nach auch einer dieser Menschen, die jeder  kennen sollte. Ganz unten im Artikel findet Ihr noch einen Link zu einer Rede (natürlich halten siebenjährige Mädchen Reden … ist doch logisch).
Wenn ein Wal stirbt weil er zu viele Plastiktüten in seinem Magen hat und deshalb nicht mehr essen kann, dann ist es etwas was wir einfach nicht akzeptieren dürfen. Ella
ELLA, WHY DOES A 7YEAR OLD GIRL TAKE RESPONSIBILITY FOR THE OCEAN? WAS THERE A SPECIAL MOMENT WHEN YOU DECIDED TO RAISE YOUR VOICE?
I take responsibility for the ocean because I love everything about the ocean. I realize that what I love is in danger so I feel like it is not only my responsibility, but everyone's to protect the ocean and all that live in it.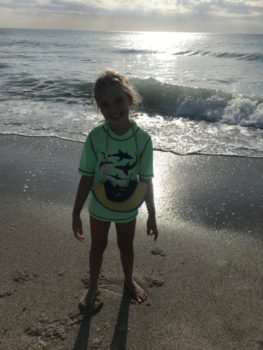 I have always really loved the ocean, and I have grown up with parents who are really passionate about conservation, but for me the moment I decided I needed to speak up for the ocean was when my hero Rob Stewart died.
He was the one I looked up to, and when he died I realized that one person can really make a change. He was one person, one really amazing person, but he alone changed more peoples minds about sharks than anyone else ever has. That was the moment I knew that my voice mattered too.
WHAT WAS YOUR PARENTS´ AND FRIENDS` REACTION WHEN YOU INFORMED THEM THAT YOU WANNA START YOUR PROJECT? BY THE WAY, DID YOU NEED TO RE-EDUCATE YOUR PARENTS?
My parents reaction was encouraging. They always encourage me to follow the things I love, and to stand up for what I believe in.
They helped me with some ideas about how I might be able to make more people care about the ocean and sharks. My friends think it is pretty cool that I am so in love with the ocean and sharks. Sometimes it is funny because most kids my age are interested in different things, like toys and crafts and things, so they sort of think I am funny when I am always talking about sharks.
I have met and become friends with a lot of really amazing people through my interest in the oceans. Most of them are a lot older than I am, but they are really passionate about the same things. I never had to re-educate my parents. I think it is from their passion that mine was able to grow. I remember being really little and brushing my teeth, and my mom would say "turn off the water while we brush our teeth. You don't want to hurt whales in the ocean". So no, I am lucky, they have been really good role models for me.
WHAT DO YOU PERSONALLY DO TO RECDUCE SINGLE-USE PLASTIC?
My family does a lot to avoid single use plastics. We just sort of make it part of our lifestyle. You don't miss the single use plastics at all.
It is just something that isn't negotiable in our house.
we shop in bulk stores so we can bring our own glass containers

we use shampoo and conditioner bars instead of soaps in plastic bottles

we use bamboo toothbrushes

we bring our stainless steel water bottles or glass tea mugs everywhere with us so we 

never have to use a single use cup

cloth shopping bags are all we use.

we never ever use plastic ones.

we make an extra effort to buy foods that you can't get in bulk in glass jars

we never ever use plastic straws. We have really neat stainless steel ones we bring along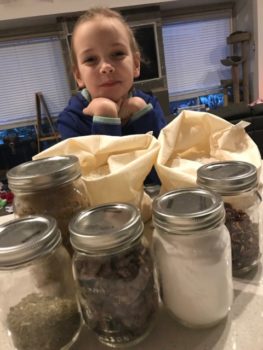 IMAGINE YOU COULD INTRODUCE A NEW SUBJECT IN SCHOOL. WHICH SUBJECT WOULD IT BE AND WHY?
Well I am lucky enough to be homeschooled, and my Mom and Dad let me learn A LOT about the ocean and sharks. I think if I could introduce a subject into the school system it would be conservation.
It would be teaching kids about how their impact has a ripple effect. Nothing they do affects just them. It would teach kids that what they eat, and what products they use have a big impact on the planet.
And that they have a responsibility to make choices that are going to allow for generations after us to live with a clean and thriving planet.
IF YOU WOULD BE IN CHARGE OF CANADA, LIKE BEING THE PRESIDENT OR PRIME MINISTER – AND YOU COULD DECIDE ONE THING RIGHT NOW. WHAT WOULD BE YOUR DECISION?
If I could be in charge of Canada, I would definitely care more about the planet than our Prime Minster Justin Trudeau does. I would not just talk about protecting the planet, I would actually do it.
I would make shark finning a thing of the past. I would ban all Shark Fin imports and exports from Canada, and use the power of my role to influence other countries to do the same.
A lot of people ask me why banning shark finning is so important, and I tell them that if Sharks all die, we as humans will die too.
Sharks keep the balance of the ocean in check. If they are taken away, the ocean will not thrive, which means our oxygen here on land will eventually not be able to allow for human life to continue. So even thought a lot of people think saving sharks isn't that important, it really is one of the most important things I can think of.
Wie eingangs erwähnt – wenn diese kleine Superheldin keine Inspiration ist – wer dann? Vielleicht ist Ella ja auch für Deine Kurze oder Deinen Kurzen ein riesiges Vorbild?
Und wenn jeder Mensch auf diesem Planeten einfach nur auf Ella hören würde und sich ein klein wenig ändert, wäre unsere Welt von heute auf morgen mehr oder weniger gerettet. Einfach Taschentücher bereithalten und das Video hier gucken: https://www.youtube.com/watch?v=TPaMH54tMtI
Werde mit uns zum Plastikrebell® - SHOP NOW: